Turn On Automated Manual Surfing For Your website
You Will Get 4500 To 6000 Page Surf Credits On Leads Leap Every Month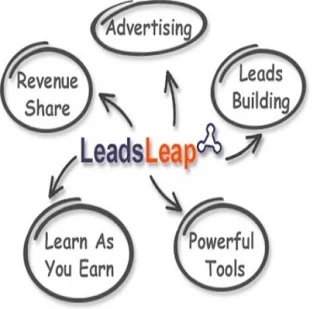 You No Need To Surf Anything
Automation In your Advertising
Get Daily Stats On Your Screen
Get Instant Leads & Sales
We Provide You Secret Blueprint How To Use Leads Leap Properly
We Surf More Than 120 Hrs For You Manually
Get Minimum 4500 To 6000 Page Surf Credits Every Month
From The Desk Of Mr.Madan
I Have Been Working In The Field Of Traffic Exchange For The Last 4 Years And As Per My Experience Many New Marketers or Experienced Marketers Start Working On Leads Leap Because The Traffic Quality Is Outstanding But For Some Reason They Can't Spend at Least 6 to 8 Hours Every Day on Leeds Leap for Manual Surfing And as a Result, Their Website Gets Very Low Traffic.
May Be Something Similar Happening To You?
We have come up with "DEDICATED TE SURFING" Service For You As a Solution To This Problem. In This We Monetize Your Website on Leads Leap By Manually Surfing Professionally For 120 Hours Every Month.We Also Post Reviews on Leads Leap Regarding Your Site, So You Also Benefit In PPC Section And as a Result Your Website Gets 4500 to 6000 Visits Every Month.
There are 7 Main benefits To Using Leeds Leap**** (1) You Get Unique Traffic Every Day (2) It Is Impossible To Surf Using Bot on This Website, So You Get 100% Human Clicks (3) Since The Time Limit For Surfing is up to Two and a Half Minutes, You Get More Engagement, leads & Sales (4) PPC Section Generates a Lot of Traffic Which Is Not Available On Any Other Traffic Exchange Site (5) Reviews on Leeds Leap Are Static, So You Can Benefit From it in The Future (6) You Get More Tier 1 Traffic On Leeds Leap Than Any Other Traffic Exchange (7) If You Are Using Leads Leap Then You Do Not Have To Spend Extra Money For Autoresponder and Page Builder.
Why Use Our " Dedicated TE Surfing Service " ?
There are 3 Key benefits to using a "DEDICATED TE SURFING SERVICE"**** (1) We do 120 hours of Manual Surfing For You Every Month So You Get Leads and Sales Without Doing Anything. (2) We use 5 Paid Tools Like Afrefs, MOZ, SEMRUSH, ALEXA & WOORANK to Make Your Advertisement Better, So The Content Used In Your Advertisement Is Optimized To a Great Extent. (3) If Your Website Or Offer May Not Generate Instant Commissions For You, Then We Will Find Trending Offers For You From More Than 1500 offers from MMO, Weight Loss, Health, Softwares, MLM, PLR Niche etc . We Also Provide Free Promo Tools To Promote Them**** As Per Our Experience I Can Tell You For Sure That The Money Invested In This Service Is Never Wasted But You Get More Profit.
What Are The Next Steps After I Sign Up?
You Can Sign Up By Clicking On The Button Below And Then You Will See a Thank You Page
All You Have To Do Is Submit Your Links On Our Website We Will Upload Those Links To Our Account And Send You The Results By e-mail After Manual Surfing ( Recommended )
Below I have Shown a Chart in Which You Can See That I Have Received 11224 Clicks In a Single Month And I Have Also Received 4600 leads.
(I can Do The Same For You )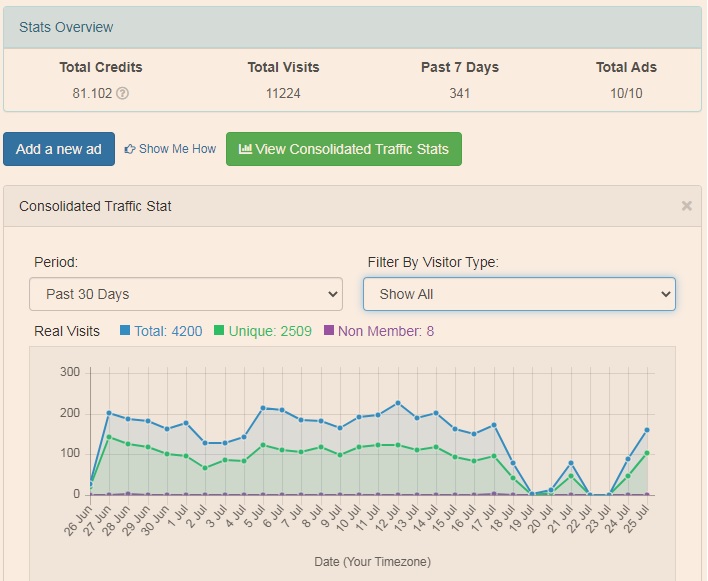 Do You Want This Type Of Traffic ?

If Your Answer Is Yes Then Click On The Button Below And Sign Up For Dedicated TE Surfing

( Keep In Mind We Are Selling This Service To Only 5 Peoples This Month )